Experience the dazzling lights and vibrant energy of Las Vegas with this comprehensive 5 Days in Vegas Itinerary. From world-class entertainment to iconic attractions, discover the best things to do in Vegas. Whether you're into shows, nightlife, or exploring the Strip, this guide has you covered.
Introduction
Welcome to the ultimate Las Vegas experience! Known as the Entertainment Capital of the World, Las Vegas is a city that never sleeps, offering a whirlwind of activities, attractions, and entertainment options. In this comprehensive 5-day itinerary, we'll guide you through an unforgettable journey, highlighting the must-see places, shows, and experiences that define the essence of Sin City. Let's dive into the glitz, glamor, and excitement that Las Vegas has to offer.
Day 1: Arrival and Getting Acquainted
Morning: Check-In and Exploring the Strip
Upon arrival, check in to your hotel on the Las Vegas Strip. Start your adventure with a leisurely stroll along the Strip, taking in the iconic sights like the Bellagio Fountains, Eiffel Tower at Paris Las Vegas, and the High Roller Observation Wheel.
Afternoon: Poolside Relaxation and Shopping
Enjoy some relaxation by the pool at your hotel. In the afternoon, explore the various shopping centers along the Strip, such as The Forum Shops at Caesars Palace or the Grand Canal Shoppes at The Venetian.
Evening: Experience a Vegas Show
In the evening, treat yourself to a world-renowned Las Vegas show. Whether it's a dazzling performance by Cirque du Soleil, a magic show, or a live musical, Vegas offers a variety of entertainment options.
READ ALSO: 7 Must-Do Things in Santorini, Greece: Travel Guide
Day 2: Thrills and Entertainment
Morning: Adventure on the High Roller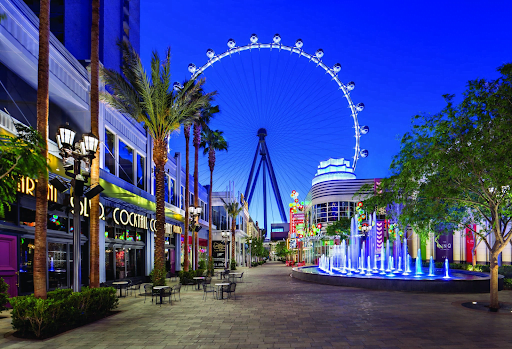 Start your day by riding the High Roller, the world's tallest observation wheel. Get a bird's-eye view of the city and the surrounding desert landscape.
Afternoon: Indoor Skydiving and M&M's World
Experience the sensation of skydiving without jumping out of a plane at an indoor skydiving facility. Then, visit M&M's World for a colorful and interactive experience.
Evening: Fremont Street Experience
Head to downtown Las Vegas for the Fremont Street Experience. Enjoy the dazzling light shows, live entertainment, and street performers on the famous pedestrian mall.
Day 3: Explore Beyond the Strip
Morning: Hoover Dam Excursion
Embark on a half-day trip to the Hoover Dam. Marvel at this engineering marvel, take a guided tour, and learn about its history and significance.
Afternoon: Ethel M Chocolate Factory and Cactus Garden
Visit the Ethel M Chocolate Factory to satisfy your sweet tooth and explore the adjacent cactus garden, featuring a stunning array of desert plants.
Evening: Fine Dining at The Venetian
Indulge in a fine dining experience at one of the exquisite restaurants at The Venetian. Here are a few restaurants at The Venetian and their respective sections:
Buddy V's Ristorante – Located in the Grand Canal Shoppes, this Italian-American restaurant offers hearty meals and desserts inspired by the famous TV personality Buddy Valastro.
Chica – Situated in The Venetian Tower, Chica presents a blend of Latin American and Venezuelan flavors in a vibrant and energetic setting.
Bouchon Bistro – Found in the Venezia Tower, Bouchon serves up classic French cuisine with a modern twist, offering a serene ambiance for an elegant dining experience.
Yardbird Southern Table & Bar – Also in the Grand Canal Shoppes, Yardbird specializes in Southern comfort food, including fried chicken and other soulful dishes.
CUT by Wolfgang Puck – Nestled in The Palazzo Tower, CUT offers a contemporary twist on the traditional steakhouse, presenting high-quality cuts of meat and innovative sides.
Mott 32 – Located in the Palazzo Tower, Mott 32 features modern Cantonese cuisine in a chic and upscale environment.
After dinner, take a gondola ride along the Grand Canal inside the resort to round off your evening with a touch of Venetian charm. After dinner, take a gondola ride along the Grand Canal inside the resort.
Day 4: Day of Exploration and Nightlife
Morning: Red Rock Canyon
Start your day with a visit to Red Rock Canyon National Conservation Area. Enjoy scenic hikes and appreciate the natural beauty of the Mojave Desert.
Afternoon: Neon Museum
Discover the history of Las Vegas through its iconic neon signs at the Neon Museum. Take a guided tour to learn about the city's evolution.
Evening: Nightclubs and Bars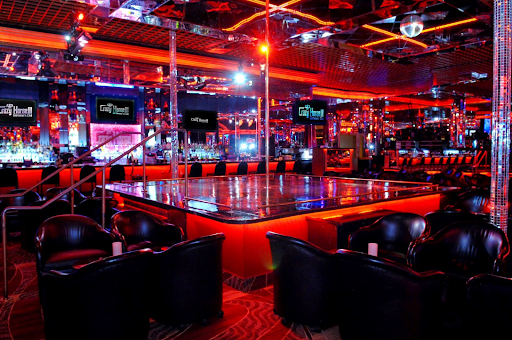 Experience Las Vegas' legendary nightlife by visiting some of the hottest nightclubs and bars along the Strip:
Omnia Nightclub (Caesars Palace): Follow the lively music and vibrant lights to Caesars Palace. Inside, enjoy a multi-level, high-energy environment with world-class DJs and an electrifying dance floor.
XS Nightclub (Encore at Wynn Las Vegas): Look for the striking golden entrance at Encore at Wynn Las Vegas and step into a luxurious space that seamlessly transitions from indoor elegance to a poolside paradise. XS hosts top-tier DJs for an unforgettable party.
Marquee Nightclub (The Cosmopolitan): Located within The Cosmopolitan resort, experience a dynamic atmosphere spread across multiple rooms. Don't miss the rooftop patio offering stunning Strip views and a lively ambiance.
Hakkasan (MGM Grand): Recognizable by its intricate architecture at MGM Grand, Hakkasan offers a fusion of dining, lounge, and clubbing experiences. Explore the restaurant, lounge, and dance floor in a modern Asian-inspired atmosphere.
Chandelier Bar (The Cosmopolitan): Situated in the center of the casino at The Cosmopolitan, this three-story bar is a unique gem. Enjoy handcrafted cocktails within the sparkling chandelier structure, creating an enchanting and memorable setting.
With these venues and their respective locations, you're primed to dance, socialize, and create indelible memories along Las Vegas' glittering nightlife scene!
Day 5: Farewell to Vegas
Morning: Brunch and Relaxation
Enjoy a leisurely brunch at one of the city's renowned brunch spots. Take some time to relax and reflect on your Vegas adventure. Some of the renowned restaurants in the city known for their fantastic brunch offerings are; Hash House A Go Go, Eggslut, Mon Ami Gabi, Bouchon Bistro, and Sardinian Trattoria.
Afternoon: Shark Reef Aquarium
Visit the Shark Reef Aquarium at Mandalay Bay, home to a wide variety of marine species including sharks, rays, and sea turtles.
Evening: Farewell Dinner and Bellagio Fountains
People Also Ask
How much money do you need for a 5 day trip to Las Vegas?
The amount of money needed for a 5-day trip to Las Vegas varies based on your spending preferences. On average, budget-conscious travelers might spend around $1000 to $1500 for accommodation, meals, entertainment, and activities.
How many days should you spend in Las Vegas?
The ideal duration for a Las Vegas trip depends on your interests. A 5-day itinerary allows you to experience a range of attractions and shows while soaking in the city's vibrant atmosphere.
Is 5 days long enough in Vegas?
A 5-day visit offers a well-rounded Vegas experience, allowing you to explore major attractions, shows, and iconic landmarks. However, Vegas has much to offer, so more days would give you a chance to delve even deeper.
Is $1000 enough for 5 days in Vegas?
While it's possible to enjoy a 5-day Vegas trip with a budget of $1000, it's important to plan your expenses wisely. Prioritize your activities and consider setting aside extra funds for entertainment and dining.
What are the best things to do in Las Vegas?
The best things to do in Las Vegas include exploring the iconic Las Vegas Strip, enjoying world-class shows, trying your luck at casinos, visiting attractions like the Hoover Dam, and experiencing the city's vibrant nightlife.
What is Las Vegas famous for?
Las Vegas is famous for its extravagant casinos, vibrant nightlife, world-class entertainment shows, iconic landmarks like the Welcome to Fabulous Las Vegas sign, and its reputation as a hub of luxury and excitement.
5 reasons to visit Las Vegas
Entertainment Extravaganza: Las Vegas offers unparalleled entertainment options, from dazzling shows to celebrity performances.
Iconic Landmarks: Explore famous landmarks like the Bellagio Fountains and the Eiffel Tower replica.
Vibrant Nightlife: Experience legendary nightlife with world-renowned nightclubs and bars.
Culinary Delights: Indulge in a diverse range of dining experiences, from celebrity chef restaurants to international cuisine.
Unique Attractions: Discover unique attractions like the Neon Museum and the High Roller Observation Wheel.
Conclusion
Las Vegas is a city of endless possibilities, where every moment is a new adventure. This comprehensive 5-day itinerary and the answers to commonly asked questions have guided you through the best of Sin City, from its iconic attractions to its world-class entertainment. As you bid adieu to the neon lights and glittering casinos, take with you memories that will last a lifetime. Las Vegas, with its unique blend of excitement and entertainment, is a place like no other.