Discover an array of exciting activities in Nashville. From family-friendly attractions to romantic experiences, find out the best things to do in Nashville. Get insights into activities for kids, fun for adults, couples, weekends, and more.
Introduction
Nashville, often referred to as the "Music City," is a vibrant destination known for its rich musical heritage, lively entertainment scene, and Southern charm. Whether you're traveling with family, friends, or your significant other, Nashville offers a diverse range of activities that cater to everyone's preferences. In this comprehensive guide, we'll explore the top things to do in Nashville, including options for kids, adults, couples, and those seeking free activities. Let's dive into the heart of this Tennessee treasure city!
Welcome to our comprehensive guide to the 10 most unforgettable experiences in Nashville! All of us at Airlinetraveler, are thrilled to present you with an unparalleled travel guide that will immerse you in the vibrant culture and captivating attractions of this enchanting city. From its iconic music scene to its mouthwatering Southern cuisine, Nashville has something for everyone. Let's dive right in and explore the must-try activities that will make your trip to Nashville truly exceptional.
1. Immerse Yourself in Music History at the Grand Ole Opry
No visit to Nashville is complete without paying homage to the birthplace of country music, the Grand Ole Opry. Steeped in musical history, this legendary venue has hosted countless iconic performances. Since its humble beginnings as a radio broadcast in 1925, the Grand Ole Opry has become a cornerstone of Nashville's identity. Picture yourself in the audience, surrounded by the echoes of legends who graced the same stage. The magic of live country, bluegrass, and gospel music continues to captivate audiences night after night. From the moment the first note rings out, you'll be transported back in time, feeling the resonance of the music that shaped a genre.
2. Honky Tonk Highway: A Nightlife Adventure
Experience the heart and soul of Nashville's nightlife on the famous Honky Tonk Highway. As the neon lights paint the streets with vibrant colors, live music pours out onto the sidewalks, inviting you to become a part of the energetic scene. Nashville's musical legacy can be traced back to this very street, where honky-tonk bars and live music venues have thrived for decades. Roam between historic bars and clubs, such as Tootsie's Orchid Lounge and Legends Corner. Feel the twangy tunes seep into your bones as aspiring and established artists give it their all on stage. Dance the night away, creating your own story in the midst of the rhythmic melodies.
READ ALSO: 7 Must-Do Things in Santorini, Greece: Travel Guide
3. Country Music Hall of Fame and Museum: A Melodic Journey
Indulge your love for music by exploring the treasures housed within the Country Music Hall of Fame and Museum. As a city deeply intertwined with the evolution of country music, Nashville's role as the genre's epicenter is celebrated here. Here, the past, present, and future of country music converge, creating a symphony of stories that resonate with visitors of all ages. As you walk through the exhibits, you'll discover more than artifacts – you'll unravel the threads that weave the tapestry of this genre. From the humble beginnings of country pioneers to the global impact of modern artists, Nashville's role in shaping music becomes clearer with every step.
4. Explore the Iconic Ryman Auditorium
Step into the hallowed halls of the Ryman Auditorium, affectionately known as the "Mother Church of Country Music." Since its founding in 1892, the Ryman Auditorium has witnessed the evolution of Nashville's musical landscape. Originally built as a place of worship, it soon became a hub for performances and gatherings. Legends like Hank Williams, Patsy Cline, and Elvis Presley graced its stage, leaving an indelible mark on music history. Imagine the anticipation that filled the air as audiences gathered to witness groundbreaking performances.
Today, the Ryman stands as a testament to Nashville's enduring dedication to musical excellence. Take a guided tour to uncover its rich past, guided by the echoes of countless legendary performances. Stand center stage where icons have stood before, and feel the weight of history beneath your feet. It's not just a venue; it's a living tribute to the artists who shaped the city's musical soul.
5. Discover the Parthenon in Centennial Park
Transport yourself to ancient Greece in the heart of Nashville at the Parthenon in Centennial Park. This isn't just a mere replica; it's a marvel that stands as a tribute to the enduring influence of classical architecture. The replica exists as a testament to Nashville's rich appreciation for art, culture, and history. Crafted with meticulous attention to detail, it beckons you to step into a world where gods and goddesses once reigned.
As you explore the art gallery within, you'll be greeted by a breathtaking sight – the colossal statue of Athena, the Greek goddess of wisdom and courage. The sheer scale of the statue and the intricate craftsmanship that went into its creation are awe-inspiring. This isn't just a sculpture; it's a symbol of the profound connection between cultures and eras.
Beyond the historical and cultural significance, the Parthenon's serene surroundings also contribute to its allure. The park's tranquil ambiance makes it an ideal spot for a leisurely stroll, a quiet moment of reflection, or even a relaxing picnic with loved ones. As you take in the beauty of the structure against the backdrop of the park's greenery, you'll find yourself transported not only to ancient Greece but also to a place of peace and rejuvenation.
6. Indulge in Culinary Delights: Hot Chicken and Biscuits
No culinary journey through Nashville would be complete without savoring its signature dish: hot chicken. Head to Hattie B's Hot Chicken for a fiery and flavorful experience that embodies the city's culinary spirit. The first bite ignites your taste buds, and as the heat subsides, a symphony of flavors dances on your palate. Pair it with classic Southern biscuits, and you have a harmonious blend of tradition and innovation that satisfies both the appetite and the soul.
7. Cruise the Cumberland River on the General Jackson Showboat
Embark on a scenic voyage along the Cumberland River aboard the General Jackson Showboat. The river's gentle current carries you through Nashville's history and skyline, providing a unique perspective of the city's evolution. As you listen to live entertainment and savor a delicious Southern meal, you become a part of a narrative that spans generations. The lights of the city mirror the stars above, and for a moment, time seems to stand still as you soak in the sights and sounds of the riverfront.
8. Stroll Through the Historic Germantown District
Immerse yourself in Nashville's history by wandering through the charming streets of the Germantown district. With each step, you're transported to a different era, where old-world charm intertwines with modern vitality. Explore boutique shops that house treasures waiting to be discovered. Art galleries showcase the city's creative pulse, and diverse culinary options cater to every palate. The Bicentennial Capitol Mall State Park offers a window into Tennessee's past, reminding us of the journey that led to the vibrant present.
9. Vibrant Murals and Art Scene in The Gulch
Experience Nashville's artistic side by visiting The Gulch, a trendy neighborhood adorned with vibrant murals and contemporary art installations. As you stroll through the streets, the walls become a canvas that tells stories, shares messages, and sparks conversations. Capture the beauty of these artworks with your camera, creating a visual diary of your journey. The neighborhood's energy is contagious, and the creativity that pulses through its veins serves as a reminder that art transcends boundaries.
10. Greenery and Serenity at Cheekwood Estate & Gardens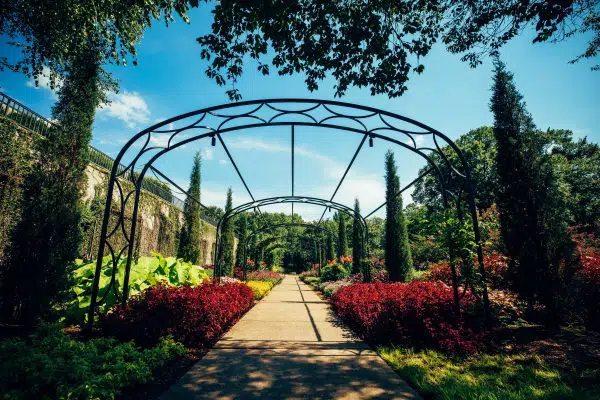 Escape the urban bustle and find tranquility at the Cheekwood Estate & Gardens. As you roam through meticulously landscaped gardens, you're greeted by nature's artwork at every turn. The vibrant colors and fragrant blooms offer a feast for the senses, while the historic mansion stands as a testament to a bygone era. With changing seasonal exhibitions, each visit is a unique experience, inviting you to uncover the secrets that nature and art hold within their embrace.
Embrace the spirit of this remarkable city, and let your journey be a harmonious symphony of unforgettable moments.
FAQ
Things to Do in Nashville with Kids
Nashville is a fantastic destination for family travel, with a plethora of kid-friendly attractions. Here are some exciting activities to consider:
Adventure Science Center: Ignite your child's curiosity with hands-on exhibits and interactive displays that make learning a blast.
Nashville Zoo: Get up close to exotic animals from around the world and enjoy the zoo's educational programs and events.
Country Music Hall of Fame and Museum: Explore the history of country music through engaging exhibits and interactive experiences suitable for all ages.
Centennial Park: Spend a relaxing day at the park, with its iconic Parthenon replica and beautiful walking trails.
Fun Activities in Nashville for Adults
For those seeking entertainment tailored to adults, Nashville has an array of options that promise an unforgettable time:
Honky Tonk Highway: Immerse yourself in the vibrant nightlife along Broadway, where live music, bars, and honky-tonk venues come alive.
Food Tours: Embark on a culinary journey through Nashville's diverse food scene, savoring Southern classics and innovative dishes.
Music Venues: Catch live performances at renowned venues like the Ryman Auditorium and the Grand Ole Opry for an authentic Nashville experience.
Brewery Tours: Sample locally crafted beers on guided brewery tours, and discover Nashville's thriving craft beer culture.
Things to Do in Nashville, TN for Couples
Nashville provides a romantic backdrop for couples to create lasting memories together. Consider these activities for a memorable trip:
Couples' Escape at the Spa: Indulge in relaxation with a couples' massage or spa treatment, rejuvenating your senses.
Sunset Cruise on the Cumberland River: Enjoy a picturesque cruise as the sun sets, offering breathtaking views of the city skyline.
Fine Dining: Experience exquisite dining at upscale restaurants, offering delectable cuisine and intimate ambiance.
Live Music Shows: Share unforgettable moments as you listen to live music performances in cozy venues, fostering a sense of intimacy.
Things to Do in Nashville This Weekend
Planning a weekend getaway? Nashville has you covered with a variety of activities to make the most of your short trip:
Historic Sites: Explore historic landmarks like The Hermitage and Belle Meade Plantation to delve into the city's past.
Flea Markets and Farmers' Markets: Browse unique treasures at local flea markets or savor fresh produce at farmers' markets.
Outdoor Concerts and Festivals: Check out outdoor concerts and festivals happening over the weekend, celebrating music, art, and culture.
Free Things to Do in Nashville
Discover budget-friendly options that don't compromise on enjoyment. Nashville offers several free activities for a memorable experience:
Percy Warner Park: Hike scenic trails and relish panoramic views of the city from this beautiful park.
Live Music in Public Spaces: Immerse yourself in Nashville's music culture with free live performances in parks and public spaces.
Frist Art Museum: Explore a diverse collection of artworks spanning different eras and styles, free of charge on certain days.
Things to Do in Nashville Today
Looking for last-minute plans? Here are some spontaneous options to consider for the day:
Visit Local Markets: Experience the vibrant energy of local markets, offering unique crafts, artisanal goods, and delicious treats.
Explore Music History: Dive into the city's music history by visiting museums and attractions that pay homage to legendary artists.
Walking Tours: Join guided walking tours to learn about Nashville's history, architecture, and culture from enthusiastic guides.
Best Things to Do in Nashville
As you plan your Nashville adventure, be sure to include these top-rated attractions and activities:
Grand Ole Opry: Immerse yourself in the heart of country music by attending a live performance at the Grand Ole Opry.
The Parthenon: Marvel at the full-scale replica of the Parthenon, complete with stunning sculptures and art exhibitions.
Hatch Show Print: Witness the art of letterpress printing and even create your own unique print at this historic shop.
What is the Main Fun Street in Nashville?
Broadway, often referred to as the "Main Street of America's Music City," is the epicenter of entertainment in Nashville. Lined with neon lights, honky-tonk bars, and live music venues, Broadway offers an electrifying atmosphere that draws locals and tourists alike. It's the ultimate destination for a night of fun, music, and dancing.
What is Your Favorite Activity in Nashville?
As a seasoned traveler and Nashville enthusiast, my personal favorite activity is taking a stroll down Broadway in the evening. The energy, the live music pouring out of every venue, and the camaraderie among fellow visitors create an unforgettable experience. It's a quintessential Nashville adventure that captures the city's essence.
Share Your Nashville Stories
Have you explored Nashville's iconic attractions? Have you discovered hidden gems that made your trip even more special? We invite you to share your personal anecdotes and experiences in the comments section below. Let your stories become a part of the tapestry that celebrates this remarkable city's soul. We encourage you to ask questions, share insights, and connect with fellow readers in the comments section. Your engagement enhances the experience for everyone.
Conclusion
Nashville is a city that resonates with music, culture, and Southern charm. Our curated guide has unveiled the top 10 experiences that will leave you captivated and awestruck. Whether you're a music aficionado, a foodie, an art enthusiast, or simply seeking an unforgettable adventure, Nashville promises to exceed your expectations. Embark on your journey through Nashville, and let each experience weave a vibrant thread into the tapestry of your memories. Unearth the magic, immerse yourself in the culture, and create stories that will last a lifetime.
In other articles, 10 Things Families Should Know Before Visiting Alabama: Magnolia Springs