Are you dreaming of exploring the vibrant streets of Tokyo without breaking the bank? Look no further! Our budget tokyo travel guide is here to help you embark on an unforgettable journey through this captivating metropolis without emptying your wallet.
Introduction
Tokyo, the bustling capital of Japan, is a city that effortlessly marries tradition and innovation. From historic temples and serene gardens to towering skyscrapers and futuristic technology, Tokyo offers a mesmerizing blend of the old and the new. While it's true that Tokyo can be an expensive destination, this guide is dedicated to proving that you can experience the best of this remarkable city without overspending.
In this travel guide, we'll provide you with insider tips, affordable accommodation options, wallet-friendly dining suggestions, and a variety of free or low-cost activities that will allow you to savor the essence of Tokyo on a budget.
Whether you're a backpacker, a solo traveler, a couple, or a family, Tokyo has something to offer for everyone without breaking the bank. Get ready to discover the cultural riches, culinary delights, and hidden gems of Tokyo without compromising your financial well-being.
So, grab your yen and a sense of adventure, and let's embark on an affordable journey through the heart of Tokyo, where the memories you create will be priceless, but the cost won't be!
Exploring Tokyo on a Budget
Transportation
Tokyo's transportation system is renowned for its efficiency, and there are ways to navigate the city affordably. Consider purchasing a Pasmo or Suica card, which allows you to use the city's extensive train and bus networks with ease. These cards offer discounted fares compared to purchasing individual tickets for each ride.
Additionally, consider exploring the city on foot or renting a bicycle, both excellent ways to soak in the local atmosphere while saving money.
Accommodation
Accommodation can be a major expense in any city, but Tokyo has several budget-friendly options. Hostels are a popular choice for travelers on a budget, offering clean and comfortable dormitory-style rooms. Alternatively, you can explore capsule hotels for a unique and economical experience.
If you prefer more privacy, business hotels and guesthouses often offer competitive rates. Booking well in advance and taking advantage of online deals can further reduce your accommodation costs.
Dining
Eating out in Tokyo doesn't have to be costly. Head to local eateries and street food stalls to sample delicious Japanese cuisine at wallet-friendly prices. Don't miss out on the opportunity to try the city's famous ramen shops or sushi conveyor belt restaurants, where you can enjoy authentic dishes without splurging.
For a budget-friendly breakfast, visit one of Tokyo's many convenience stores for a quick and inexpensive meal, or explore neighborhood food markets for fresh and affordable produce.
Sightseeing
Tokyo boasts a multitude of free or low-cost attractions that allow you to immerse yourself in its culture and history. Senso-ji Temple in Asakusa, Tokyo's oldest temple, is a must-visit and offers free admission. Take a stroll through Ueno Park, home to several museums and a picturesque pond, without spending a yen.
Marvel at the iconic Shibuya Crossing and soak in the vibrant atmosphere of this bustling district. Additionally, many museums and galleries offer discounted admission days, so plan your visits accordingly.
Shopping
Shopping enthusiasts will find plenty of opportunities to snag affordable souvenirs and unique finds in Tokyo. Explore the Ameya-Yokocho Market in Ueno for discounted goods, or visit the 100 yen shops where you can find a wide variety of items at budget-friendly prices.
If you're in Tokyo during the weekend, browse the flea markets that pop up throughout the city, offering everything from vintage clothing to antiques.
Getting Around Tokyo on a Budget
Public Transportation
Tokyo's public transportation system is not only efficient but also cost-effective when used wisely. To get the most value for your money, consider purchasing a Tokyo Subway Ticket or a Tokyo Tourist Metro Pass. These options provide unlimited rides on Tokyo's subways for a fixed duration, making it convenient and budget-friendly for tourists.
Furthermore, Tokyo offers an extensive bus network, and using buses can be a more economical way to explore certain areas. Keep in mind that Japan Rail Passes, while fantastic for intercity travel, may not be the best choice if you plan to stay within Tokyo as they can be quite expensive.
Walking and Cycling
One of the joys of exploring Tokyo is discovering its neighborhoods on foot. Many of the city's attractions, shops, and eateries are within walking distance of each other, so be sure to bring comfortable shoes and explore at a leisurely pace. You'll stumble upon charming streets, parks, and local shops that aren't always visible from a train window.
Another option for budget-conscious travelers is renting a bicycle. Tokyo has an increasing number of bike-sharing services and rental shops, making it easy to explore the city's streets at your own pace. Plus, cycling is not only an affordable way to get around but also an eco-friendly one.
READ ALSO: Exploring Beijing City Where History Meets Modernity – Past and Present
Eating on a Budget in Tokyo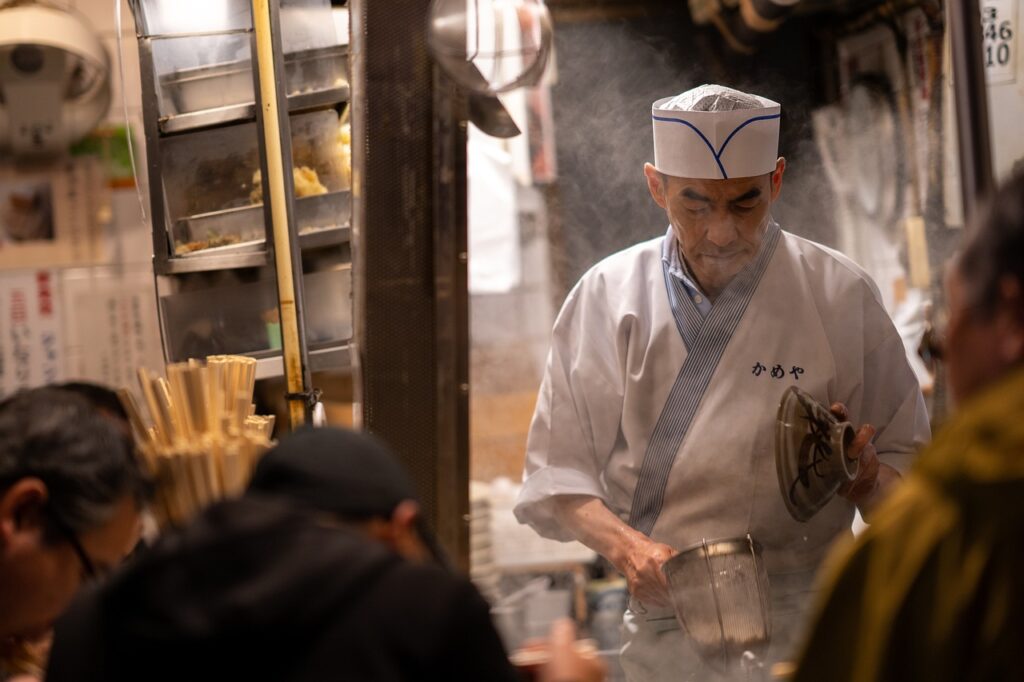 Street Food and Convenience Stores
For budget travelers, Tokyo's street food scene is a treasure trove of culinary delights. Try takoyaki (octopus balls), okonomiyaki (savory pancakes), or yakitori (grilled skewers) from street vendors and stalls scattered throughout the city. These dishes are not only delicious but also affordable.
Convenience stores like 7-Eleven, Lawson, and FamilyMart offer a variety of tasty and affordable snacks and meals, including onigiri (rice balls), sandwiches, and bento boxes. These stores are open 24/7, making them convenient options for budget-conscious travelers.
Ramen and Noodle Shops
No trip to Tokyo is complete without indulging in a bowl of authentic Japanese ramen. Head to local ramen shops where you can enjoy a hearty meal without straining your budget. These eateries often have vending machines at the entrance, allowing you to place your order and pay in advance.
Food Markets and Izakayas
Exploring local food markets, such as Tsukiji Outer Market, is another way to savor Tokyo's culinary offerings without overspending. Sample fresh sushi, seafood, and other Japanese specialties while experiencing the lively atmosphere of these markets.
Additionally, consider visiting izakayas, which are casual Japanese pubs that offer a wide range of small dishes and drinks. Happy hour specials and set menus are common, making izakayas an affordable way to enjoy Japanese cuisine in a social setting.
In the next section, we'll delve into Tokyo's vibrant culture and provide tips on experiencing entertainment and attractions without straining your budget.
Immersing in Tokyo's Culture and Entertainment on a Budget
Free Cultural Experiences
Tokyo offers a wealth of cultural experiences that won't cost you a dime. Here are some ways to immerse yourself in the city's rich heritage:
Meiji Shrine: Located in the heart of Tokyo, the Meiji Shrine is a serene oasis of tranquility. Explore the lush forested grounds and witness traditional Shinto rituals without paying an entrance fee.
Harajuku Takeshita Street: Stroll down Takeshita Street in Harajuku to witness unique street fashion and vibrant youth culture. It's a free show that's both entertaining and culturally enlightening.
Asakusa Culture and Tourist Information Center: Head to the observation deck of this center for stunning panoramic views of Tokyo and a glimpse of the city's old and new neighborhoods. It's free and provides an excellent photo opportunity.
Imperial Palace East Gardens: The Imperial Palace East Gardens are open to the public, allowing you to explore beautiful gardens and historical remnants, including the old Edo Castle.
Affordable Entertainment
While Tokyo has its share of extravagant entertainment options, there are plenty of budget-friendly alternatives:
Karaoke: Karaoke is a favorite pastime in Japan. Look for karaoke parlors that offer all-you-can-sing packages for a fixed price. Gather your friends and unleash your inner rock star without breaking the bank.
Sumo Wrestling: Catching a live sumo wrestling practice session is both affordable and fascinating. Head to a sumo stable to witness these impressive athletes in action during their morning training routines.
Museums and Galleries: While some museums in Tokyo can be expensive, many offer free or discounted admission days. Check their schedules and plan your visits accordingly. The Tokyo Metropolitan Art Museum, for instance, often has free exhibitions.
Parks and Cherry Blossom Viewing: Tokyo's parks, such as Shinjuku Gyoen and Ueno Park, offer a peaceful retreat from the bustling city. Visit during cherry blossom season for a stunning display of sakura (cherry blossoms) at no extra cost.
Local Theaters: Explore local theaters and performance venues for budget-friendly shows, including traditional kabuki performances or contemporary theater productions.
Shopping Smart in Tokyo
Shopping in Tokyo doesn't have to be synonymous with extravagance. Here's how to shop smart on a budget:
Thrift and Secondhand Shops: Tokyo has a thriving thrift store scene. Visit neighborhoods like Shimokitazawa or Koenji for vintage clothing, accessories, and unique finds at lower prices.
Daiso and Seria: These 100-yen shops offer a wide range of everyday items, from stationery to kitchenware. It's an excellent place for affordable souvenirs and practical purchases.
Outlet Malls: Outlet malls like Gotemba Premium Outlets offer discounted brand-name goods. Take a day trip to these outlets to find bargains on fashion, electronics, and more.
Don Quijote: This discount chain store is a treasure trove of affordable goods, including cosmetics, snacks, and novelty items. It's a fun place to browse and shop for quirky souvenirs.
By embracing these budget-friendly options for culture, entertainment, and shopping, you can make the most of your trip to Tokyo without worrying about overspending. Tokyo's diversity and accessibility make it a fantastic destination for travelers seeking memorable experiences on a budget.
Conclusion: Affordable Adventures in Tokyo
As we conclude this budget travel guide to Tokyo, we hope you're feeling inspired and well-prepared to embark on your own affordable adventure in this captivating metropolis. Tokyo, with its unique blend of tradition and modernity, offers a plethora of opportunities for budget-conscious travelers to explore, savor, and experience the best it has to offer without breaking the bank.
From navigating the city's efficient transportation system to savoring mouthwatering street food and immersing yourself in its rich cultural heritage, Tokyo has much to offer those seeking an economical yet enriching journey.
Remember, the essence of travel lies not in lavish spending, but in the memories you create, the people you meet, and the cultural experiences you embrace. Whether you're exploring serene temples, bustling street markets, or lively karaoke parlors, Tokyo's diverse offerings ensure that your journey is filled with memorable moments.
As you venture forth on your budget-friendly Tokyo expedition, keep an open mind, a keen eye for local deals, and a willingness to explore off the beaten path. Tokyo's charm lies not only in its renowned landmarks but also in its hidden gems waiting to be discovered by intrepid travelers like you.
So, pack your sense of adventure, your curiosity, and your yen – and set off on an unforgettable journey through the dynamic and diverse streets of Tokyo. With careful planning and a commitment to smart spending, you'll find that this remarkable city welcomes budget travelers with open arms, promising a memorable and affordable experience.
In other related articles, Budget Travel Guide to Hong Kong – how to travel to Hong Kong on budget