Introduction
Welcome to the Loire Valley, a region in the heart of France known as the "Garden of France." Nestled along the banks of the majestic Loire River, this picturesque area is renowned for its stunning châteaux (castles) that dot the landscape, creating a fairytale-like atmosphere that has captivated visitors for centuries. With its rich history, breathtaking architecture, and lush landscapes, the Loire Valley is a true treasure trove of French heritage and culture.
The Loire Valley boasts an extraordinary concentration of châteaux, each with its own unique charm and character. These architectural marvels span various periods, from the medieval to the Renaissance, showcasing the evolution of French architecture over the centuries. Some of the most famous châteaux in the region include Château de Chambord, Château de Chenonceau, Château de Villandry, and many more.
Many of these châteaux were once the playgrounds of French royalty, serving as hunting lodges, palaces, and symbols of power. The Loire Valley played a pivotal role in French history, and the châteaux that stand here are not only architectural wonders but also repositories of historical stories and legends.
Beyond the châteaux, the Loire Valley is known for its enchanting gardens, rolling vineyards, and charming villages. The region's fertile soil and temperate climate have made it a haven for wine enthusiasts, producing some of France's finest wines, including the world-renowned Sancerre and Chinon.
As you explore the Loire Valley, you'll have the opportunity to indulge in exquisite cuisine, sample delicious local wines, and embark on scenic bike rides along the Loire River. Whether you're a history buff, an architecture enthusiast, a nature lover, or simply seeking a romantic getaway, the Loire Valley offers something for everyone.
Join us on a journey through Châteaux Galore, as we delve into the captivating world of the Loire Valley's châteaux, unravel their stories, and uncover the magic that makes this region a timeless gem in the heart of France. Whether you're planning a visit or simply curious about this enchanting place, we invite you to immerse yourself in the beauty and history of the Loire Valley.
Exploring the Châteaux: A Diverse Tapestry of Architectural Marvels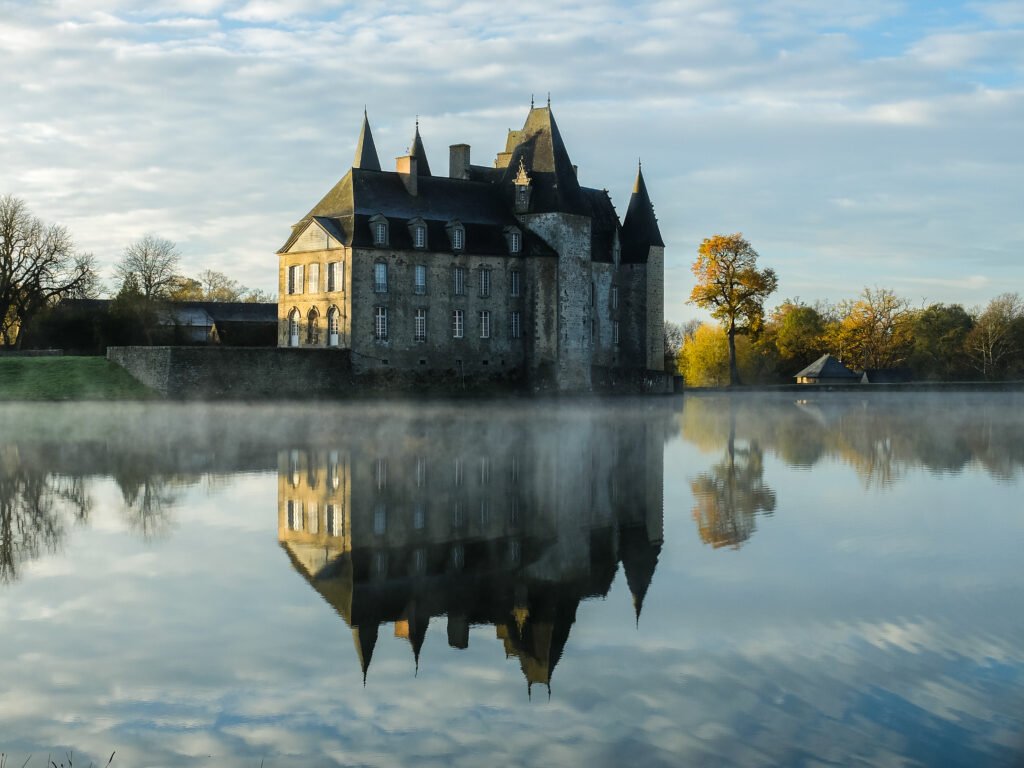 The Loire Valley's châteaux are a testament to the creativity and grandeur of French architecture across the ages. Each château is a unique masterpiece, offering a glimpse into different periods of history and artistic styles.
Château de Chambord: This iconic château is a masterpiece of French Renaissance architecture. Its distinctive double helix staircase, designed by Leonardo da Vinci, is a marvel of engineering and artistry. As you wander through its expansive grounds and elegant rooms, you'll be transported to the 16th century, experiencing the opulence of French kings.
Château de Chenonceau: Often referred to as the "Ladies' Château" due to the influential women who shaped its history, Chenonceau straddles the Cher River with grace and beauty. Its stunning arches, gardens, and art collections make it a true gem of the Renaissance period.
Château de Villandry: Renowned for its exquisite gardens, Villandry showcases the art of French formal gardening. The meticulously designed parterre gardens, ornamental flowerbeds, and vegetable gardens are a horticultural wonder, providing a tranquil and visually captivating experience.
Château de Azay-le-Rideau: This fairy tale-like château is set on an island in the Indre River. Its graceful blend of French medieval and Renaissance styles makes it a charming example of the transition between architectural periods.
Château de Blois: A true architectural kaleidoscope, Blois presents a fascinating journey through time. It features four distinct architectural styles: Gothic, Flamboyant Gothic, Renaissance, and Classical. The château's courtyards and interior apartments tell the story of France's turbulent history.
Château de Amboise: Perched high above the Loire River, Amboise offers spectacular views and a glimpse into the life of King Charles VIII. Leonardo da Vinci spent his final years here, and you can visit his tomb in the nearby Chapel of Saint-Hubert.
Château de Ussé: Often associated with the tale of Sleeping Beauty, Ussé is a romantic vision with its turreted towers and picturesque gardens. It embodies the spirit of medieval châteaux and is sure to ignite your imagination.
READ ALSO: Most Popular Tourist Destinations In France
Château de Saumur: Overlooking the Loire River, Saumur boasts an impressive medieval fortress that has been repurposed into a museum. It offers a fascinating exploration of military history, horse culture, and the region's winemaking heritage.
Château de Langeais: This well-preserved fortress captures the essence of the Middle Ages. Its drawbridge, defensive walls, and great hall provide a glimpse into the military and social aspects of medieval life.
Château de Cheverny: Known for its classical architecture and beautiful furnishings, Cheverny has retained its 17th-century charm. The château's interiors are remarkably well-preserved, offering a glimpse into aristocratic life during the Enlightenment era.
These are just a few highlights of the châteaux you can explore in the Loire Valley. Each one tells a unique story, whether it's a tale of royalty, artistry, or architectural innovation. Join us as we delve deeper into the enchanting world of these remarkable châteaux, uncovering the secrets and stories that have shaped the Loire Valley's rich cultural heritage.
Beyond the Châteaux: Enchanting Experiences in the Loire Valley
While the Loire Valley's châteaux are undoubtedly the crown jewels of the region, there's so much more to discover in this enchanting corner of France. Here are some of the experiences and attractions that await you beyond the castle walls:
Picturesque Villages: Take leisurely strolls through charming villages like Amboise, Chinon, and Saumur. These quaint communities offer a taste of traditional French life, complete with cobblestone streets, artisan shops, and inviting cafes.
Culinary Delights: The Loire Valley is a gastronomic paradise. Savor local specialties like rillettes (pâté-like spread), fouées (small bread pockets), and the region's famous goat cheese. Pair your meals with wines from local vineyards for an authentic culinary experience.
Cycling Adventures: The Loire Valley is crisscrossed with scenic cycling routes that meander along the river and through vineyards. Rent a bike and explore the picturesque countryside at your own pace, discovering hidden gems along the way.
Wine Tasting: The region's vineyards produce some of France's finest wines. Visit wineries in appellations like Sancerre, Vouvray, and Chinon for wine tastings and tours. Learn about the art of winemaking and savor the flavors of the Loire Valley.
Gardens Galore: In addition to the stunning gardens at the châteaux, the Loire Valley is home to other botanical delights. Explore the International Garden Festival at Chaumont-sur-Loire or the Gardens of the Château de La Bourdaisière, known for its collection of heritage tomatoes.
River Cruises: Discover the Loire River from a different perspective by taking a boat tour. These leisurely cruises offer captivating views of the châteaux and the serene countryside, making for a peaceful and picturesque experience.
Historical Museums: Dive deeper into the history of the region by visiting museums like the Royal Fortress of Chinon, which played a pivotal role in Joan of Arc's story, and the Museé des Beaux-Arts in Tours, showcasing a rich collection of art and artifacts.
Hot Air Balloon Rides: Soar above the Loire Valley in a hot air balloon for a breathtaking aerial view of the châteaux and the scenic landscapes below. It's a once-in-a-lifetime experience that adds a touch of magic to your journey.
Festivals and Events: Check the local calendar for festivals and events that celebrate the region's culture, including the Renaissance Fair at Château de Plessis-lèz-Tours and the Loire à Vélo Summer Festival, which combines cycling and music.
Shopping for Souvenirs: Don't forget to browse local markets for souvenirs such as handmade crafts, wines, and regional products like lavender, honey, and saffron.
The Loire Valley offers a diverse range of activities and experiences, making it an ideal destination for travelers with varied interests. Whether you're a history enthusiast, a foodie, a nature lover, or simply seeking relaxation, this captivating region has something to enchant and inspire every visitor. Stay with us as we continue our journey through the Loire Valley, uncovering its hidden gems and unique treasures.
Seasonal Splendors: A Year-round Journey Through the Loire Valley
The Loire Valley is a destination that transforms with the seasons, offering a different yet equally enchanting experience throughout the year. Let's embark on a journey through the seasons in this captivating region:
Spring (March to May)
As the winter chill recedes, the Loire Valley awakens in a riot of colors. Blossoming gardens and trees paint the landscape with vibrant hues. Spring is an ideal time to explore the châteaux gardens, with tulips, daffodils, and cherry blossoms in full bloom. The moderate weather is perfect for outdoor activities like cycling and hiking.
Summer (June to August)
Summer in the Loire Valley is a celebration of life and culture. The châteaux come alive with various events, including open-air concerts, theatrical performances, and garden festivals. The long, sunny days invite leisurely picnics along the riverbanks and outdoor wine tastings. It's the perfect time to explore the Loire's rich cultural heritage under the warm sun.
Autumn (September to November)
As the vineyards harvest their grapes, the Loire Valley transforms into a golden wonderland. The countryside is drenched in warm, autumnal colors, creating a picturesque setting for wine tours and tastings. The châteaux are less crowded, allowing for a more intimate exploration of their interiors and gardens.
Winter (December to February)
Winter adds a touch of coziness to the Loire Valley. Châteaux like Chambord and Chenonceau are adorned with festive decorations, making them even more enchanting. The cool, crisp air is perfect for brisk walks in the countryside, followed by evenings spent by the fireplace with a glass of local wine.
Each season in the Loire Valley offers a unique perspective on this captivating region. Whether you prefer the vibrant colors of spring, the festive spirit of summer, the rustic charm of autumn, or the cozy ambiance of winter, the Loire Valley welcomes you year-round with its timeless beauty and rich experiences.
Join us as we delve deeper into the seasonal delights of the Loire Valley, uncovering the best activities, festivals, and local traditions that make each time of the year in this region truly special. Whether you're planning your visit or simply dreaming of a future trip, we're here to guide you through the wonders of the Loire Valley throughout the seasons.
Savoring the Flavors of the Loire Valley: Culinary Delights
A journey through the Loire Valley isn't complete without indulging in its culinary treasures. The region's fertile lands, bountiful rivers, and rich traditions have given rise to a diverse and mouthwatering gastronomy. Here's a taste of what awaits your palate:
Goat Cheese: The Loire Valley is renowned for its exceptional goat cheese, including Crottin de Chavignol, Selles-sur-Cher, and Valençay. These creamy, tangy cheeses are best enjoyed with a crisp glass of local Sauvignon Blanc.
Wine: The Loire Valley is a wine lover's paradise. It's famous for its crisp white wines such as Sancerre, Pouilly-Fumé, and Muscadet, as well as elegant reds like Chinon and Bourgueil. Take a tour of the vineyards and savor tastings at family-owned wineries.
Rillettes: A quintessential Loire Valley appetizer, rillettes are a savory spread made from slow-cooked pork or duck, mixed with herbs and spices. Spread them on a fresh baguette for a delightful start to your meal.
Fouées: These small, puffed-up bread pockets are a local specialty, often served with various fillings like rillettes, goat cheese, or mushrooms. They make for a delightful snack or appetizer.
Loire River Fish: The Loire River and its tributaries yield an abundance of fish, including pike, perch, and shad. Enjoy them in traditional dishes like "sandre au beurre blanc" (pike in white butter sauce) or "matelote" (fish stew).
Wild Mushrooms: Autumn in the Loire Valley brings a bounty of wild mushrooms, and you'll find them featured in many dishes. Don't miss the chance to try a creamy mushroom soup or a savory mushroom risotto.
Tarte Tatin: This famous French dessert originated not far from the Loire Valley. It features caramelized apples baked under a layer of buttery pastry, best served warm with a scoop of vanilla ice cream.
Cherry Clafoutis: In early summer, when cherries are in season, you'll find cherry clafoutis on many menus. This custard-filled delight is a sweet way to celebrate the region's fruit harvest.
Asparagus: The Loire Valley is known for its exceptional asparagus, especially in the town of Langeais. Enjoy this seasonal treat in a simple salad or drizzled with hollandaise sauce.
Traditional French Cuisine: Beyond the local specialties, the Loire Valley offers classic French cuisine with a regional twist. Look for dishes like coq au vin, beef bourguignon, and escargot prepared with a Loire Valley twist.
Pair these culinary delights with the region's wines for an unforgettable dining experience. Whether you're dining in a charming village bistro, a Michelin-starred restaurant, or simply picnicking in the countryside, the flavors of the Loire Valley will leave a lasting impression on your taste buds.
Stay tuned as we continue explore the culinary wonders of the region, from market visits and cooking classes to dining recommendations that will ensure your culinary journey through the Loire Valley is a memorable one.
Châteaux Accommodations: Where to Stay in the Loire Valley
When visiting the Loire Valley, your choice of accommodation can enhance the overall experience. The region offers a wide range of lodging options, each with its own unique charm and character. Here are some suggestions to help you find the perfect place to stay:
Château Hotels: For an authentic and luxurious experience, consider staying in one of the many château hotels scattered throughout the Loire Valley. These historic properties have been transformed into elegant hotels, offering guests the chance to immerse themselves in the region's rich heritage. Imagine waking up in a beautifully restored castle, surrounded by lush gardens and impeccable service.
Boutique Guesthouses: The Loire Valley is home to numerous boutique guesthouses and bed-and-breakfast establishments. These cozy and often family-run accommodations provide a warm and personalized experience. Many are housed in charming period buildings, giving you a taste of the region's architectural history.
Hotels in Towns: The larger towns and cities of the Loire Valley, such as Tours, Amboise, and Blois, offer a range of hotels to suit different budgets and preferences. These options are convenient if you want to explore both the châteaux and the local urban culture.
Countryside Retreats: If you seek tranquility and natural beauty, consider staying in a countryside retreat. There are charming cottages, gîtes (holiday homes), and even eco-friendly lodges tucked away in the rolling hills and vineyards of the Loire Valley.
Riverside Escapes: For a unique experience, you can find accommodations along the banks of the Loire River. Wake up to breathtaking views and the soothing sounds of the river as you enjoy your stay in a riverside hotel or cottage.
Historic Inns: The Loire Valley is dotted with historic inns and coaching houses that have been welcoming travelers for centuries. These inns often exude old-world charm and offer a glimpse into the region's past.
Charm of the Loire Villages: Staying in one of the picturesque villages near the châteaux can be a delightful experience. These smaller accommodations provide an intimate connection with the local culture and are often just a stone's throw away from iconic landmarks.
Camping and Glamping: If you're an outdoor enthusiast, the Loire Valley offers camping and glamping (glamorous camping) options in scenic locations. Wake up surrounded by nature, whether you choose to camp in a tent or enjoy the comforts of a well-appointed safari tent.
Château Stays with a Twist: Some châteaux in the region offer unique accommodations within their grounds. You can find treehouses, castle cottages, and even moated castle stays for an extraordinary and memorable experience.
Regardless of your budget or travel style, the Loire Valley provides a wide array of accommodation options to suit every taste. Booking your stay in advance, especially during peak tourist seasons, is advisable to secure your ideal lodging and make the most of your journey through this enchanting region.
Conclusion
In conclusion, the Loire Valley is a true gem of France, a place where history, culture, and natural beauty converge to create an enchanting destination. From its magnificent châteaux to its culinary delights and seasonal wonders, this region offers a rich tapestry of experiences for travelers of all interests.
Exploring the Loire Valley's châteaux allows you to step back in time and witness the architectural and historical evolution of France. These iconic landmarks tell tales of kings, queens, and legends, all set against the backdrop of lush gardens and scenic landscapes.
Beyond the châteaux, the Loire Valley beckons with its charming villages, delectable cuisine, and world-class wines. Whether you're savoring goat cheese in a cozy bistro or cycling through vineyards, every moment is a celebration of the region's rich heritage.
The changing seasons add an extra layer of magic to the Loire Valley. Whether you visit in spring, summer, autumn, or winter, each season paints a unique picture of this captivating place. From vibrant gardens to festive events and cozy winter retreats, there's always something special to discover.
As you plan your journey through the Loire Valley, consider your choice of accommodation, whether it's a luxurious château hotel, a boutique guesthouse, or a riverside retreat. Your lodging can enhance the overall experience, allowing you to immerse yourself in the region's history and culture.
No matter how you choose to explore the Loire Valley, one thing is certain: it's a destination that will leave an indelible mark on your heart. Its timeless beauty, rich heritage, and unforgettable experiences make it a place that beckons you to return, again and again, to uncover new treasures and create lasting memories. So, whether you're embarking on your first journey or returning for an encore, the Loire Valley welcomes you with open arms, ready to enchant and inspire.
In other article, Cheap Hotels in Paris